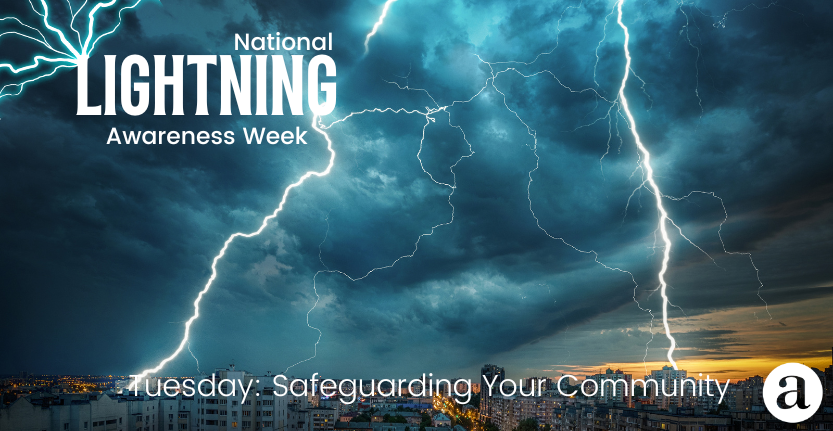 Lightning Safety Protocols: Safeguarding Your Community
Welcome back to our National Lightning Awareness Week blog series! At Access Management, we prioritize the safety and well-being of your community. In this blog post, we will focus on lightning safety protocols and emergency preparedness measures that you can implement to protect residents and minimize the risks associated with lightning storms.
Developing Lightning Safety Protocols:
Act now to develop lightning safety protocols tailored to your community. Establish designated safe areas, leverage technology to communicate weather alerts to residents and staff in a timely manner, and create clear standard operating procedures. With well-defined protocols in place, you empower everyone to react swiftly and seek safety during lightning storms.
Educating Residents and Staff:
Education is key when it comes to lightning safety. Conduct training sessions to educate residents and staff about lightning risks, safety measures, and emergency response procedures. By raising awareness and providing resources, you empower community members to make informed decisions and take necessary precautions during lightning events.
Emergency Response Planning:
Prepare your community association with a comprehensive emergency response plan. This plan should include lightning safety protocols, evacuation procedures, and effective communication strategies. Involve community leaders in planning and regularly review and update the plan to ensure its effectiveness. By being well-prepared, your association can respond swiftly and efficiently during lightning-related emergencies.
Collaboration with Local Authorities:
Work with local authorities, such as emergency management agencies and meteorological services, to enhance your community's preparedness. Establish communication channels to send and receive timely weather forecasts and lightning alerts. By leveraging these resources, you can make informed decisions and take immediate action to ensure the safety of your residents.
By implementing lightning safety protocols, educating residents and staff, developing emergency response plans, and collaborating with local authorities, your community association demonstrates a commitment to safety. Stay tuned for our next blog post, where we will delve into lightning protection maintenance and inspection best practices.
#LightningSafety #CommunitySafety #EmergencyPreparedness #AccessManagement #FeelTheAccessDifference