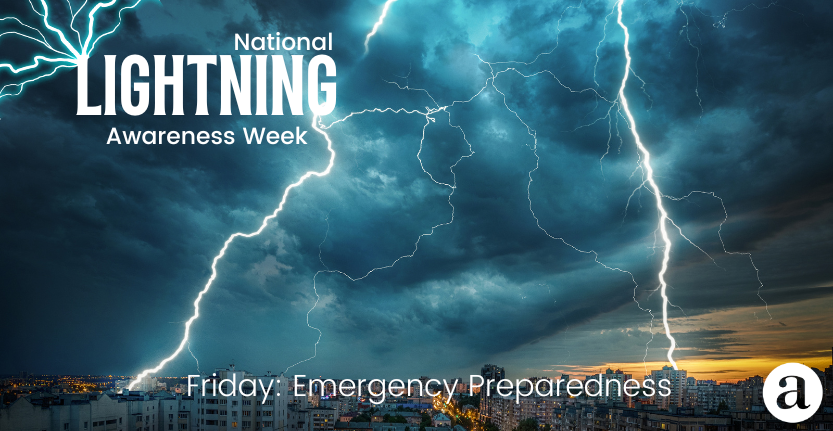 Emergency Preparedness: Developing Lightning Response Plans
Welcome back to National Lightning Awareness Week! In this final blog post of the series, we will explore the importance of developing lightning response plans as part of your community association's emergency preparedness efforts. By establishing clear protocols and procedures, you can ensure a swift and effective response to lightning storms, ultimately protecting residents and minimizing property damage.
Assessing the Risk:
We will begin by discussing the need to assess the specific lightning risk factors within your community association. This includes evaluating the frequency and intensity of lightning storms in your area, identifying high-risk zones, and considering the impact on different types of structures and amenities. By understanding the risk, you can tailor your response plan accordingly.
Establishing Communication Channels:
Effective communication is crucial during emergency situations. We will highlight the importance of establishing reliable communication channels within your community association. This includes identifying primary and secondary methods of communication, ensuring access to emergency contact information for all residents and staff, and designating specific individuals responsible for disseminating important updates and instructions.
Creating Shelter and Evacuation Plans:
Developing shelter and evacuation plans is a key component of lightning response planning. We will provide guidance on identifying safe shelter locations within your community, such as buildings with appropriate lightning protection measures or fully enclosed structures. Additionally, we will discuss the importance of establishing evacuation routes and protocols for situations where sheltering indoors is not possible or advisable.
Implementing Lightning Detection Systems:
Lightning detection systems can provide valuable information about the proximity and intensity of lightning strikes. We will discuss the benefits of implementing such systems within your community and how they can enhance your lightning response plan. By receiving real-time data on lightning activity, you can make informed decisions regarding sheltering, evacuations, and activity suspensions.
Testing and Reviewing the Plan:
Once your lightning response plan is developed, it is crucial to test and review it regularly. We will emphasize the importance of conducting drills and simulations to ensure that all residents and staff members are familiar with the plan and understand their roles and responsibilities. Regular review and updates based on lessons learned from drills will help maintain the effectiveness of your lightning response plan.
Developing a comprehensive lightning response plan is an essential part of emergency preparedness for your association. By assessing the risk, establishing communication channels, creating shelter and evacuation plans, implementing lightning detection systems, and regularly testing and reviewing the plan, you can effectively protect residents and minimize the impact of lightning strikes.
Thank you for following along with us this week! This concludes our National Lightning Awareness Week coverage.
#NationalLightningAwarenessWeek #BestPractices #LightningCapital #AccessManagement #FeelTheAccessDifference